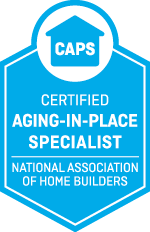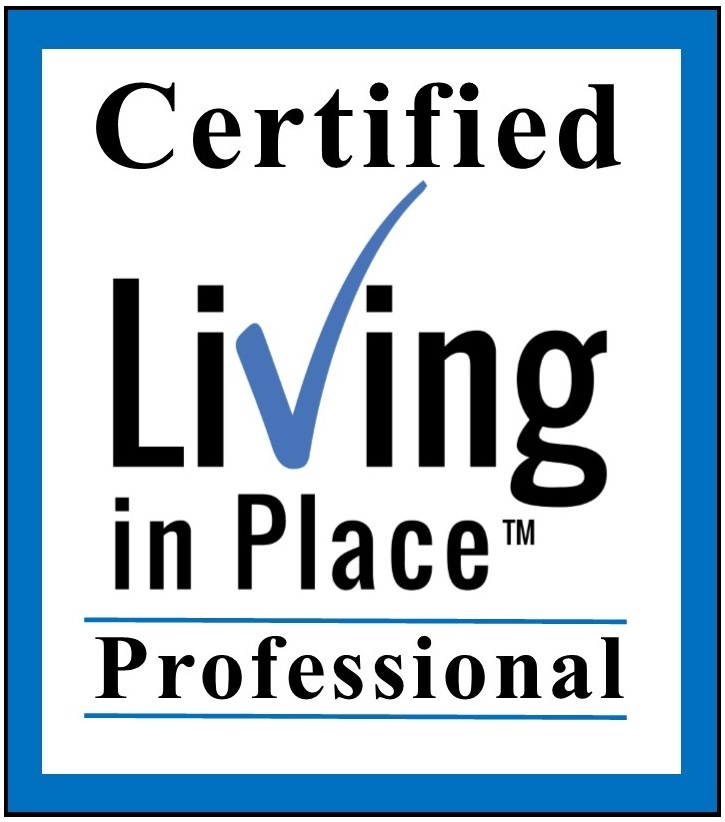 With a barrier-free bathroom
The bathroom doesn't have to be a dangerous place. You can use it without sacrificing your independence.
The US-based CDC reports that one in every three seniors will experience a fall in their golden years. The National Institute on Aging reports that 80% of those falls occur in the bathroom. Don't become a statistic!
We recommend the following to make it easier and safer to use your bathroom:
Raised toilet height so you don't have to lower yourself down as far.
Personal hygiene toilet seat.
Grab bars near the toilet and in the bath/shower to provide support while moving or standing.
Zero-step shower and bath entry (walk-in or cutout) so you can move in and out of the shower/bath without stepping over anything.
A shower seat so you can sit down while bathing.
A handheld showerhead to clean harder-to-reach areas.
Anti-slip coating in the bathtub, shower stall and on floors to significantly reduce the risk of falling.
Easy to reach and use faucets and lever style handles to make it easier to turn things on and off.
Easy to reach and use light switches.
If you use a wheelchair, a wider doorway (minimum width of 34") may also be required.
The shower is the place where a senior is the most vulnerable in their home, which is why you may avoid bathing regularly. This causes hygiene issues that can negatively affect your social interactions and increases your risk of disease, such as urinary tract infections—health concerns that can be avoided by simply taking a bath. The lack of regular bathing may be psychologically and physically degrading and humiliating.
You can preserve your sense of decency and avoid putting yourself at risk of developing related problems by just making the right modifications to your bathtub. You have two options: a bathtub cutout or bathtub to shower conversion.
Option #1: Bathtub Cutout
As part of our customized AccessibleBath™ service, we can transform your bathtub and shower to a barrier-free, walk-in style in just 2-3 hours.
We add a convenient entry way in your existing bathtub so that you no longer have to take a big step to get into the tub. It features a built-in durable anti-skid surface (not a stick on that comes off) and grab bar. With your choice of small, medium or large entry way size, it makes taking a shower so much easier!
You can choose to add a 100% water-sealed door so you can continue taking baths too.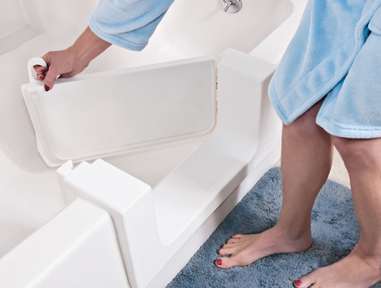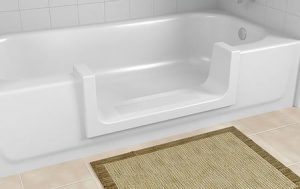 Configure your standard bathtub into a step-in with anti-skid surface. This allows you to take a shower without having to step over the side of the tub to get in and out.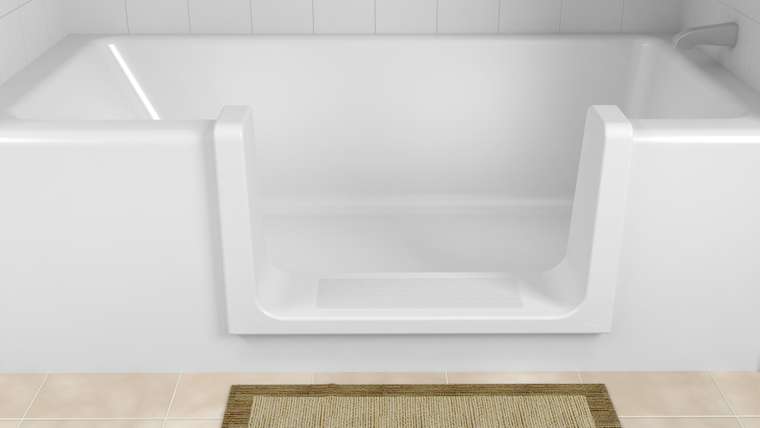 We can convert deeper soaker tubs too, regardless of their depth. All it takes is a couple of hours!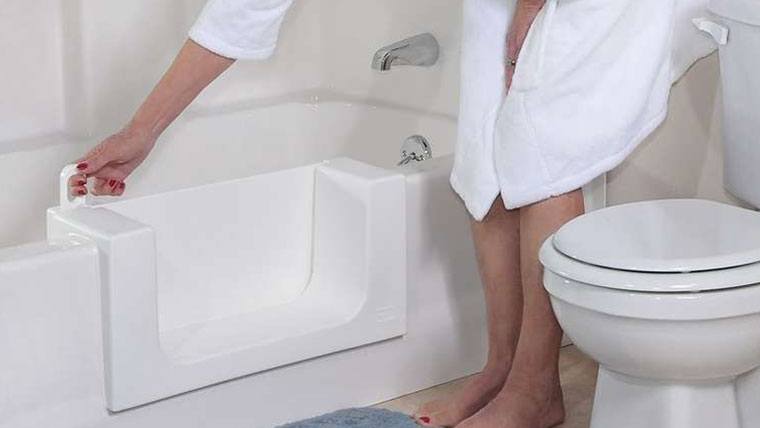 As an option, you can add a water-tight door to your bathtub cutout. The door is easy to open and close, with a left or right hinge configuration. The door allows you to continue taking baths.
Have a glass shower door? No problem! We have experience customizing your bathtub cutout to allow for more unique bathtubs. Your shower door can be safely removed and modified to accommodate the bathtub cutout.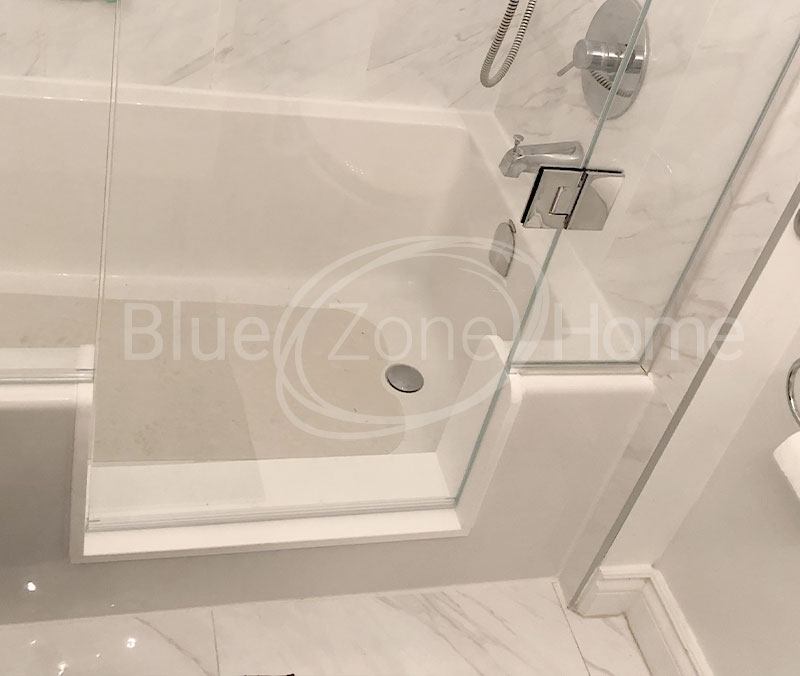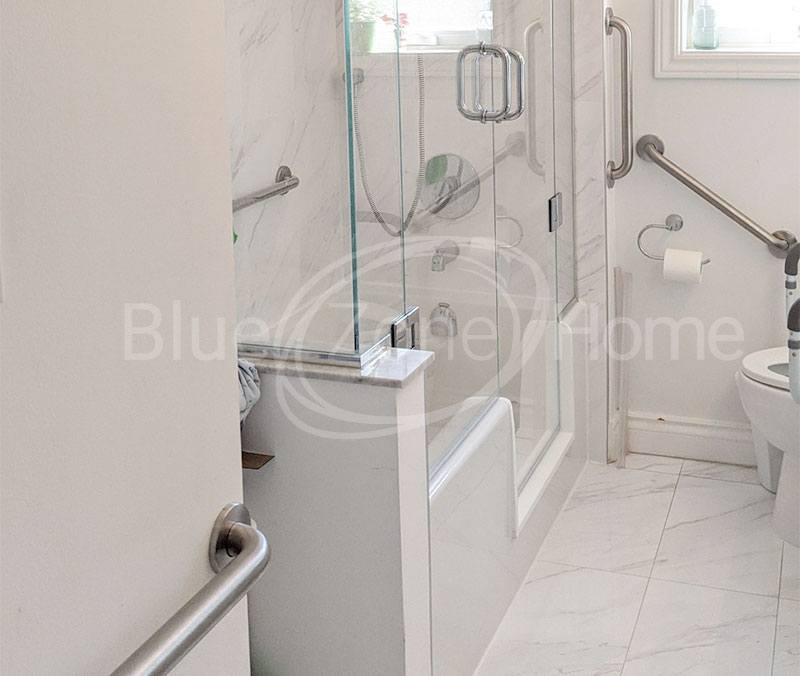 This bathtub was cutout to transform it into a walk-in, and the shower door was custom-cut to fit the modification.
Option #2: Bathtub to Shower Conversion
Remove your bath tub entirely and convert the space into a shower stall within days! This bathroom conversion is less disruptive than a complete bathroom overhaul because it converts your tub seamlessly into a shower at the fraction of the cost, making bathing independently possible again.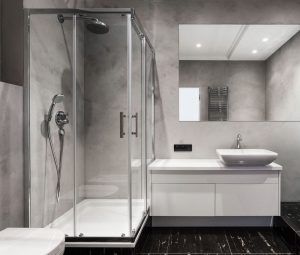 Removing your bathtub and replacing it with a walk-in shower makes showering possible again. We'll modify your tub conversion so that the threshold is low, allowing you to step in and out of the stall with ease. Grab bars, anti-slip flooring and shower seating can also be installed for your convenience and safety. All materials used are long lasting and easy to clean.
Many shower stall styles tend to take up less space than traditional bathtubs. That means your bathroom will feel more spacious and you'll have more room to move around.
Step 1: Assessment and Design
Our CAPS (Certified Age in Place Specialist) will come to your home to assess your bathroom and discuss your needs. Based on your specifications and wishes, we'll then design your customized bathtub to shower conversion.
Step 2: Bathtub Removal
First, we'll remove your bathtub, wall tiling and other unnecessary fixtures.
Step 3: Shower Installation
Next, we'll build your shower, accurately following your unique specifications.
Step 4: Clean Up
Once your shower has been installed and is fully functional, we clean everything up. We'll take away your old bathtub, tiles, dirt, and any other debris so there is no trace of us having been there. You won't have to do a thing. Your bathroom will just be ready for you to use!
Physical limitations can make it difficult to use the toilet. Sitting down on and getting up from a toilet can become impossible with loss of muscle strength, or if you suffer from back or joint issues.
Maintain your sense of dignity and independence.

Modifications can be done to your toilet(s) to make them easier to use. Also known as tall toilets or universal height toilets, the height of the seat can be increased so you don't have to bend as much.
The height would be similar to a dining room chair, so that the seat would be a couple of inches (usually 2" - 4") higher. If you use a wheelchair, the seat can be about the same as your wheelchair for easier transfer.
A small step stool placed at the foot of the toilet can be used as a foot rest for those who are shorter in stature or whom suffer from constipation.
Your options
There are two options when it comes to tall toilets.
Replace your toilet entirely.
Install a raised seat on your current toilet.
Many models also have armrests or handlebars that are attached to the seat to provide extra support when getting on or off the toilet seat.
We can help you determine which option would be better for you.
There's no need to feel fear or anxiety over what needs to be done. We'll handle everything. Our services are built on respect for you and your home.
Live a longer and healthier life in your own home. Let's talk about how we can make that happen!