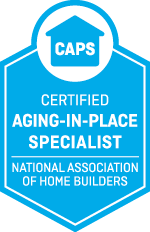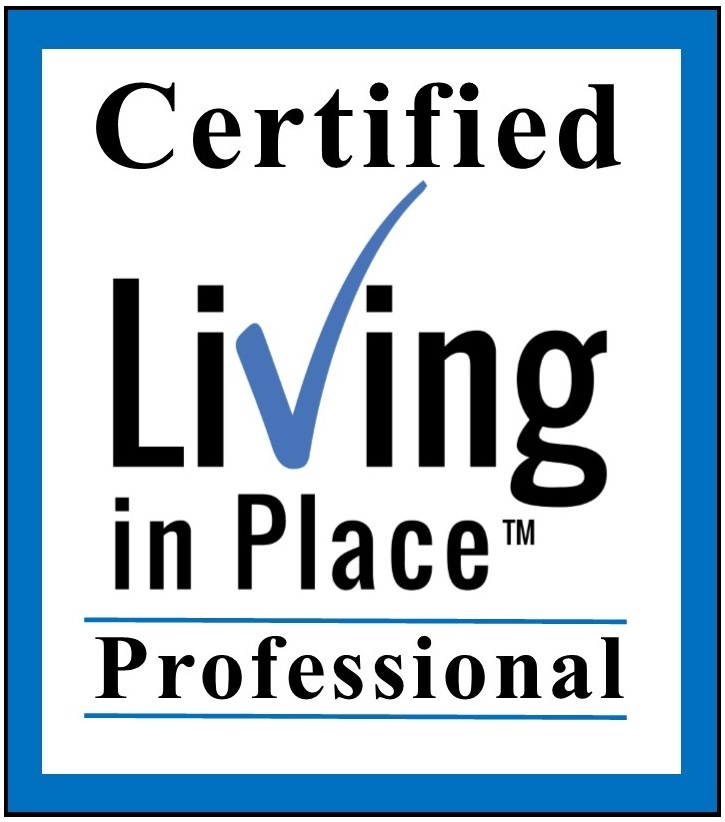 Move around your home without worry.
We provide you with feasible solutions that allow you to live the life of your choosing, wherever you want.
No two situations are the same. However, adhering to principles of safety and universal design will support a longer and healthier life at home.
Home modifications, whether referred to as Aging in Place, Living in Place, or Universal design, are all based on the same premise – customized solutions allowing you to live more comfortably and safely in your own home. We apply these crucial elements to make it easier for you to move from one floor to the next.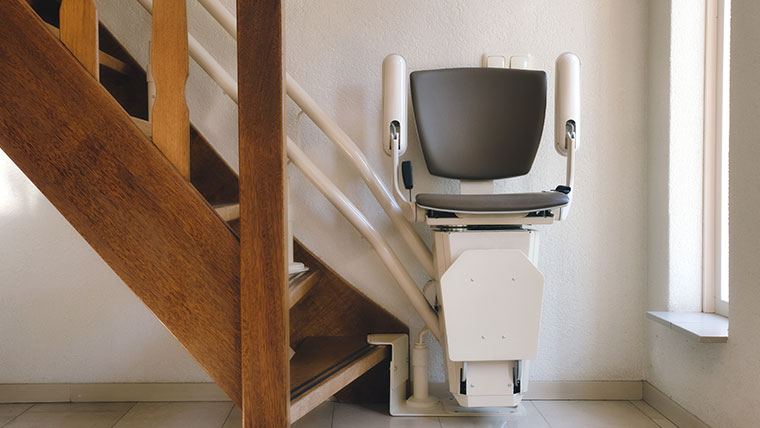 Climbing the stairs can become an impossible task, especially if your legs no longer have the strength to support your weight and you need a walker or wheelchair to move around. Chair lifts, or stair lifts, allow you to go up and down inside your home, so you can change floors easily. We can install straight chair lifts or custom curved chair lifts on the narrowest of staircases.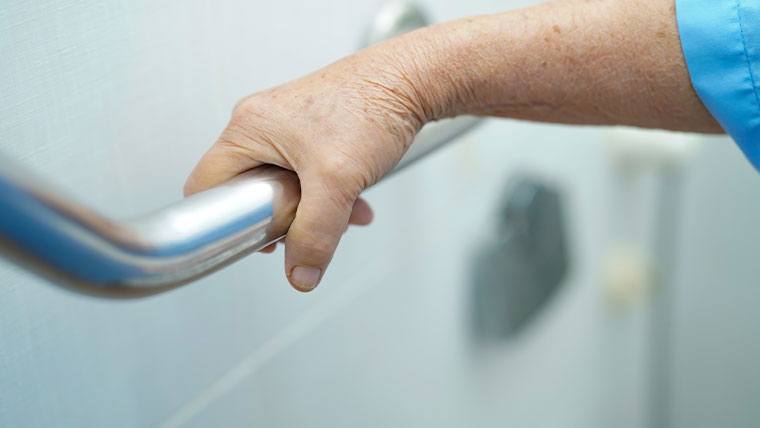 Grab bars and handle bars can be installed throughout your home to provide extra support as you move around. We also install vertical poles (also known as a Super Pole). Super Poles can be installed anywhere there's a floor and ceiling, and it requires no drilling into either! All you need to do is turn the jackscrew and it becomes sturdy enough for users up to 450lbs.
Ramps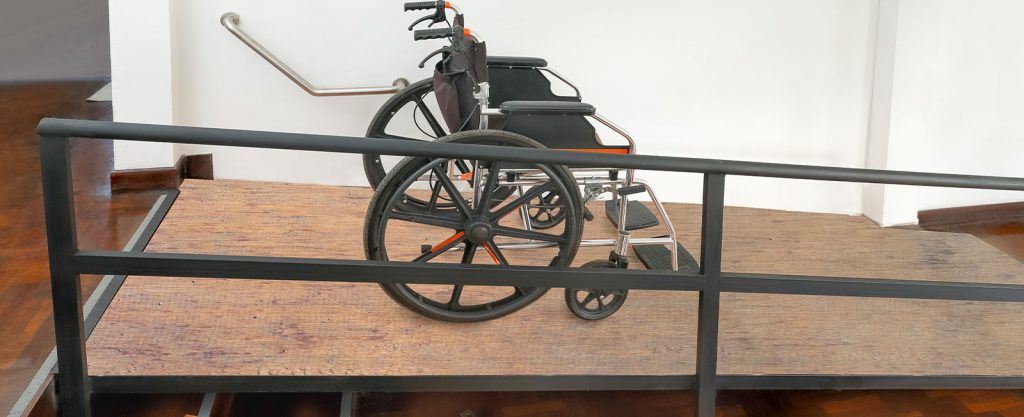 Ramps are a convenient and safer alternative to stairs. They can be designed to replace one or more steps and may be constructed out of durable material that withstands frequent use.
Typically, the optimal degree of slope should be about 5%. The ramp should be constructed out of, or at least covered with, slip-resistant material. This material should be able to provide enough friction, even if a liquid or other substance is spilled on it. A raised barrier along both edges serves to minimize the risk of the user falling off.
A level landing should be at the bottom and top of the landing, with a highly visible railing running along the length of the ramp, going beyond the top and bottom for additional support.
Ramp Materials
Wood
Made from pressure treated wood, residential wood ramps are a good choice if you're on a budget. They can be constructed fairly quickly and are durable.
Aluminum
Aluminum ramps, also known as modular ramps, come in light weight yet durable configurations for your home. They can even be portable, allowing you to move them from one area of your house to another.
Threshold Ramps
Threshold ramps are designed for that little step in the doorway. They can be constructed out of aluminum, steel, rubber or heavy duty plastic.
Elevators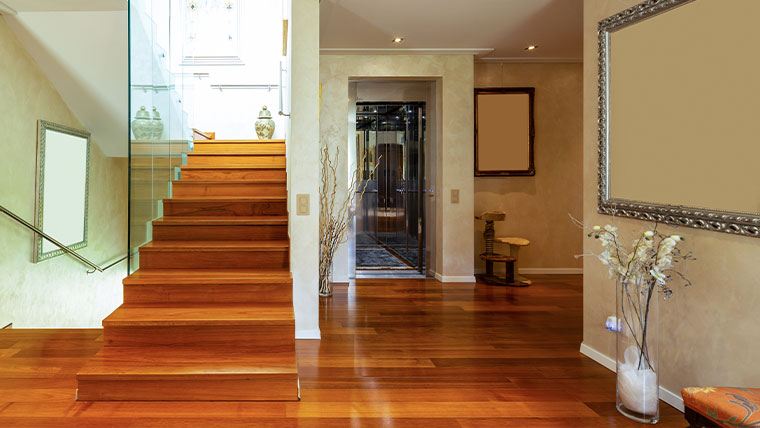 In-home elevators make changing floors effortless. They can accommodate wheelchairs, scooters and other mobility devices, as they are customized according to your specific needs. We offer a variety of elevators and lifts that can be installed in the smallest of homes. Some require no shaft or machine room, so that they can fit in more restricted spaces.
A residential elevator makes navigating from floor to floor easy, and it can be an affordable and convenient option to moving. They vary greatly in price, ranging anywhere from between $20,000 to over $60,000, depending on factors such as the type of elevator, floors served, configuration, and aesthetics.
Permits, installation, architectural modifications, and maintenance are typically not included in the price, as they are dependent on the unique specifications of each home and client.
Factors that contribute to cost
The cab finishes (cab walls can be made of glass, wood paneling, veneer or melamine).
The drive system (hydraulic, pneumatic, etc.)
The number of floors being serviced
The length of travel required
The number of cab entrances (while most elevators have only one entrance, some can be configured with more.)
Automation: gates and doors can be powered but do add to the cost
Customization (the manufacturer makes your elevator to order, therefore any customizations may add to the price.)
Types of Elevators
Shaftless
A shaftless elevator doesn't have a shaft through which the cab moves. The cab is directly attached to a rail that is affixed to a load bearing wall. The cab moves up and down the rail, controlled by a winding drum or hydraulic drive. It's ideal for single-person use.
Hydraulic Lift
A hydraulic lift hoists the elevator cab using a piston and pump setup.
The hydraulic pumping equipment may be housed in a machine room or in a "pit" below the elevator.
Vacuum or Pneumatic Lift
A vacuum elevator is self-supporting and works with turbines that dramatically reduce air pressure above the cabin, causing the elevator to ascend. To descend gently, a control valve regulates the inflow of air above the cabin relative to cabin speed.
Geared traction elevators
Geared traction elevators have a gearbox which is attached to the electric motor and turns the pulley, which winds the rope. No machine room is needed.
Gearless traction elevators
Gearless traction elevators have the wheel directly attached to the electric motor. Because there is a counterweight, energy consumption is significantly reduced.
Chain Driven
Chain driven elevators function in a similar way as cable-driven elevators, but because the chains are stronger than cables, they can bear more weight.
Outdoor Elevator Lift
Outdoor elevators are installed outside of your home, typically to allow access to a porch or balcony. They are constructed from durable metals and other materials.
We offer smart solutions for barrier-free living.
Live a longer and healthier life in your own home. Let's talk about how we can make that happen!